Grilled and Smoked Bacon Weave
Since moving to Chicago many, many years ago, my buddies and I have held a bacon themed party each year that we called Baconfest.  Foolishly we never trademarked that name (or at least grab the domain name) and the Baconfest brand has been commercialized into an annual festival.
Regardless, we still hold our little party each year, where the main event is a contest for the best bacon themed recipe.
When thinking about my entry for the 2009 Baconfest, I remembered there was a viral article from the New York Times about something called the Bacon Explosion that involved a lot of bacon, a variety of other meats and was then rolled up in a tight weave.  This definitely sounded like a winner.
This proved to be a great way to grill bacon, smoke bacon and generally make bacon even more awesome.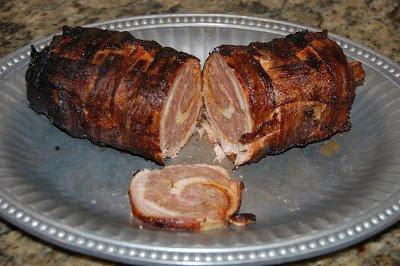 Bacon Weave
My source in Chicago for all things meat related is Lincoln Quality Meat Market in Lincoln Square.  While talking with John the Butcher about what would make this a winning entry, we landed on using a caseless sausage known as ćevapi or ćevapčići for the filling.  The sausage is this awesome blend ground beef, pork, lamb and garlic that they make fresh in the shop.
Making the Bacon Weave a contest winner would require more than just great meat, it would also need lots of smoke, as well as slow cooking due to the size.
How to make a Bacon Weave
You'll need about 20 thick slices of bacon to form the basic weave pattern.  What I made is actually 14 slices in a 7×7 weave.  It all comes down to the size of your bacon and how big you want the final product to be.
Start by weaving the bacon strips together to form the base.  On top of the bacon I added about 1/2 pound of sliced pork shoulder and about 2 tablespoons of BBQ rib rub.
Next comes the secret ingredient.  Spread the ćevapi (or any other ground meat you desire) on top of the pork shoulder.  At this point you are ready to roll it up.  The roll was about 16 inches in length and needed to be tied off about every 2 inches to keep it from falling apart.  I used 9 pieces of butcher's twine, 12 inches in length, and tightly tied up the entire bacon weave.
To ensure that it sets nicely, I covered the pan and placed it in the refrigerator for 1 hour.
Grilling the Bacon Weave
Gas grills naturally are not great for smoking meat, but it can be done.  Using some heavy duty aluminum foil, I wrapped up 2 big handfuls of wood chips (soaked in water for 30 minutes) into a packet that I placed directly on the heating elements.  Preheat your grill to get these smoking  and level off the temperature to about 200 degrees.
Carefully place the Bacon Weave on your grill and set it up for indirect cooking.  Wherever you have it, you want to turn off those burners so there isn't any heat cooking it directly.  Cook the weave for about about 3 hours until it registers 165 degrees in the center of the roll.  Right at the end, I cranked the grill up to maximum to crisp off the bacon and give it a nice smokey, glazed look.
And yes, it won Baconfest that year….